We
are 10 O'Clock Curfew!


We are a versatile five piece band with a real sense of fun. We enjoy playing a wide variety of music that is well suited to parties and special occasions. We like to enjoy ourselves when we play and hope you will too!


10 O'clock Curfew formed in 2005 with the intention of
playing music that we enjoyed, having fun, and sharing this fun with our audiences.




What we play


A diverse mix of individual musical tastes and influences exist within 10 O'clock Curfew: rock, pop, jazz, soul, funk, prog rock, etc... This rich mixture generates a fusion that drives our appetite for musical variety and versatility.

Our ever growing repertoire of songs ranges from lively, upbeat dance tracks, via classic pop and rock, to jazzy, funky sounds and softer ballads and smoochy, slow dance numbers.

We recreate the sounds of classic legends like The Rolling Stones, Ella Fitzgerald, Wilson Picket through to more recent icons of today including Adele, Imelda May, Duffy, Paolo Nutini, with some surprises like Muse, The Clash, Steve Harley & Cockney Rebel and B52s.


We're always adding to our repertoire, so if there's something you'd particularly like us to play for your party, just ask!

Check out our playlist!

We can tailor our performance to your wishes by varying what we play to suit your taste, the number of sets and time played, and of course the volume! We can also play acoustic, un-plugged sets if needed
.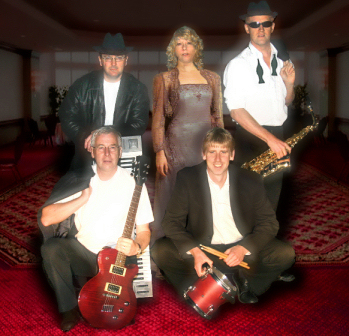 Where we play
We have enjoyed playing at various types of gigs and events. To give you a better idea, you can find some examples grouped into four main areas.:

Private parties:

Weddings, Birthday parties, Anniversaries, Summer garden parties..

Clubs and corporate functions:

New Years Eve parties, Christmas Parties, Summer Balls, Dinner dance functions

Public open events:

Pubs and clubs, Charity functions, Pub garden parties, Village hall social events

Music Festivals, Large outdoor public events
Visit the Gigs page for more details.
How we play
We believe that an audience can only get out of music what a performer puts into it. And we make a point of putting everything we have, heart and soul, into each performance.



Unlike a lot of bands today, we

do not

use pre-recorded material or backing tracks.


This is all real live music!




As a band, we seem to radiate an infectious enthusiasm for the music we play, which is guaranteed to finish a memorable evening with a rousing climax! So why not consider

10 O'clock Curfew

for your next party or function? We will give you a night to remember!





10 O'clock Curfew

are now booking for parties, weddings and events already well into 2014. Book now to avoid disappointment.